October 23, 2020 Dear Traverse Bay Area regional school community, On behalf of a consortium of area leaders representing the medical, educational, public health and business communities of Antrim, Benzie, Grand Traverse, Kalkaska and Leelanau counties, we commend the members of these communities for their perseverance and extraordinary patience as we continue to work through this pandemic. While safety remains a top priority, it is a privilege for us to witness the energy in our schools and throughout our business community the past few months. Each day, we are reminded of how critical our combined efforts are in mitigating the spread of COVID-19 and keeping our communities safe and open. As we approach the holiday season we wish to remind everyone to remain vigilant and continue to follow guidance and safety measures from the Michigan Department of Health and Human Services (MDHHS). With the recent increase of positive cases across the region, health officials are urging families to consider modified holiday celebrations that are small, local, and encourage wearing of masks, social distancing, and proper hygiene practices to help slow the spread of the virus. Our goal is to stay safe, keep our schools open face-to-face, and our businesses and economy moving forward. Below is guidance from MDHHS and the CDC to consider before, during and after a gathering to stay safe this holiday season. ● MDHHS Celebrating the Holidays During COVID-19 ● MDHHS tips on TRAVELING during the holiday season ● CDC Know Your Travel Risk ● CDC Know When to Delay Your Travel to Avoid Spreading COVID-19 Our schools are ready to transition to distance learning if the need does arise, and we will continue to work in partnership and follow public health data in the months ahead. We urge you to minimize group gatherings, continue to monitor for symptoms, and practice basic preventative measures to prevent the spread of viruses such as COVID-19, influenza and the common cold. Thank you for your continued support. Together, we can slow the spread of COVID-19! Best wishes for a safe and healthy holiday season. Respectfully, Dr. Nick Ceglarek, Traverse Bay Area ISD Superintendent with community partners listed below Regional Health Officers Dr. Josh Meyerson, Medical Director and Lisa Peacock, Health Officer Benzie-Leelanau District Health Department and Health Department of Northwest MI Kevin Huges, District Health Department #10 Health Officer Wendy Hirschenberger, Grand Traverse County Health Department Health Officer Dr. Michael Collins, Grand Traverse County Health Department Medical Director Dr. Christine Nefcy, Munson Healthcare Chief Medical Officer Regional School Leadership Rich Satterlee, Alba Public School Superintendent Mark Brenton, Bellaire Public Schools Superintendent Amiee Erfourth, Benzie County Central Schools Superintendent Jessica Harrand, Buckley Community Schools Superintendent Mike Hill, Crawford School - Excelsior District #1 Superintendent Julie Brown, Elk Rapids Public School Superintendent Josh Rothwell, Forest Area Community Schools Superintendent Jeff Tousley, Frankfort-Elberta Area Schools Superintendent Jon Hoover, Glen Lake Community Schools Superintendent Jim Coneset, Grand Traverse Academy Superintendent Mike Buell, Grand Traverse Area Catholic Schools Superintendent Robert Walker, Greenspire School Head of School/Superintendent Trey Devey, Interlochen Center for the Arts President Terry Starr, Kalkaska Public Schools Superintendent Dr. Keith Smith, Kingsley Area Schools Superintendent Arden Wilson, Leelanau Montessori Public School Academy Head of School Stephanie Long, Leland Public Schools Superintendent Jeff DiRosa, Mancelona Public Schools Superintendent Sue Frost-Mayse, New Covenant Christian Academy Darci Long, North Central Academy Principal Neil Wetherbee, Northport Public Schools Superintendent Renee Kolle and Danielle Clayton, Old Mission Peninsula School Principals Lisa Medina, St. Mary Hannah School Principal Megan Glynn, St. Mary Lake Leelanau Catholic School Principal Casey Petz, Suttons Bay Public Schools Superintendent Michele Shane, The Children's House Head of School Rob Hansen, The Leelanau School Head of School Jill Vigenski, The Pathfinder School Head of School Dr. John VanWagoner, Traverse City Area Public Schools Superintendent Tyler VanSchepen, Traverse City Christian School Superintendent Kyle Smith, Trinity Lutheran School Jeremiah Stieve, Woodland School Director Community Leadership Nate Alger, Grand Traverse County Administrator Warren Call, Traverse Connect President and CEO
Due to the COVID-19 Reopening Plan we must cancel our traditional Halloween Parade. In its place, we are planning on holding an outdoors event at 1:30 p.m. on October 30, 2020. This will be held in our high school parking lot at the back of the building on Jordan River Road. We encourage all parents and community members to come to the building that day, and watch the Alba Public School's little student's parade around the parking lot for all to view. Please feel free to bring candy to pass out to the kids. In addition, parents may take their child home at the conclusion of the parade as it is being held at the end of the regular school day.
Due to the COVID-19 and the Alba Public School Reopening Plan, we will not be holding either of these events in the manner we have in the past. First, the traditional parent/teacher conferences will be held in an alternative manner. If you desire to speak with one of the teachers regarding your student please contact them to arrange a time either virtually, on the phone or in person to conduct the meeting. The faculty has expressed to me they will get back with you regarding these scheduled times.
Alba Public School is currently working with the Norte Bike Loaning program for students. We have twenty-three sixteen inch bikes to be distributed to kids for up to one year. The bikes are in great shape and the program works much like a library card. If you are interested in getting your little ones a bike on loan, please contact the school at 231-584-2000 ext. 202. We will get the paperwork around for you to complete and let your little one pick out a bike.
As a reminder, Alba Public School will be completing student assessments on Wednesday, October 14, 2020. The high school students will be taking the PSAT and SAT on this day. The elementary students will be completing Delta Math testing. Please make certain your student gets the required rest to perform well on these tests.
This week will be a busy week at Alba Public School. On Wednesday, October 14, 2020 we will be hosting the final Northern Lake Conference Cross Country Jamboree on the Athletic Field at 5:00 p.m. Thursday, October 15, 2020 we will be hosting a JV girls' volleyball contest against Wolverine at 5:00 p.m. and on Friday, the Varsity girls' volleyball squad will also host Wolverine at 5:00 p.m. If you can make it to the school to support the teams, we would love to see you here!

Another beautiful morning at Alba Public School!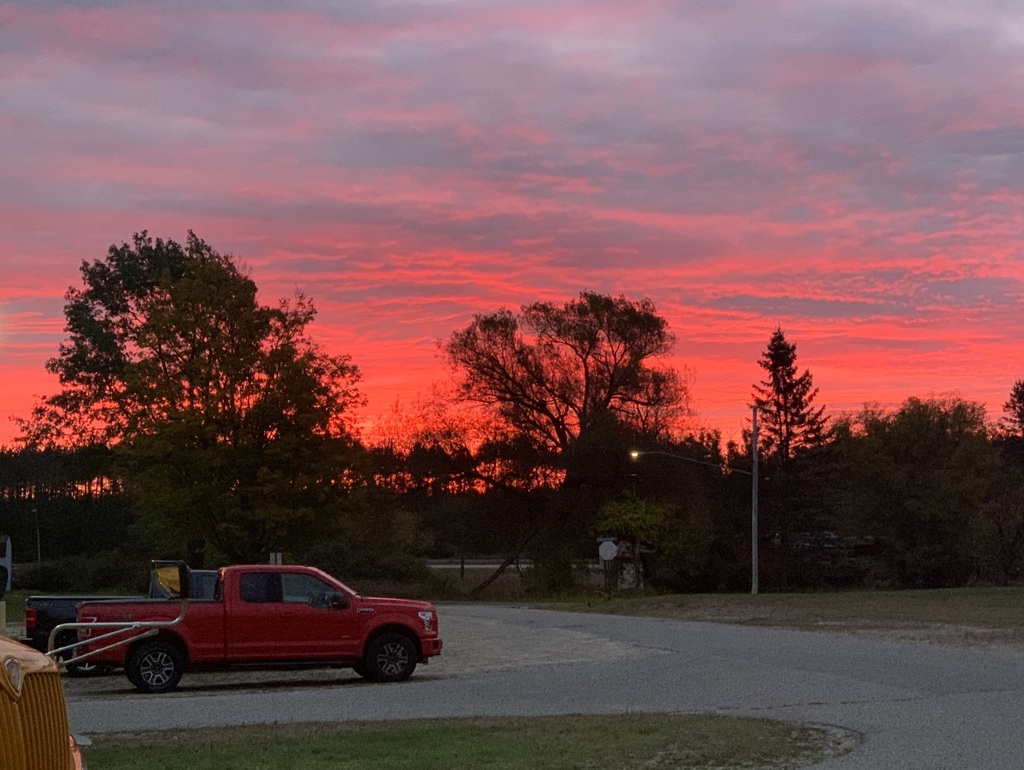 Our Varsity Cross Country team traveled to Mackinaw City for the league Jamboree #3. Kids ran well, and everyone improved on their best times!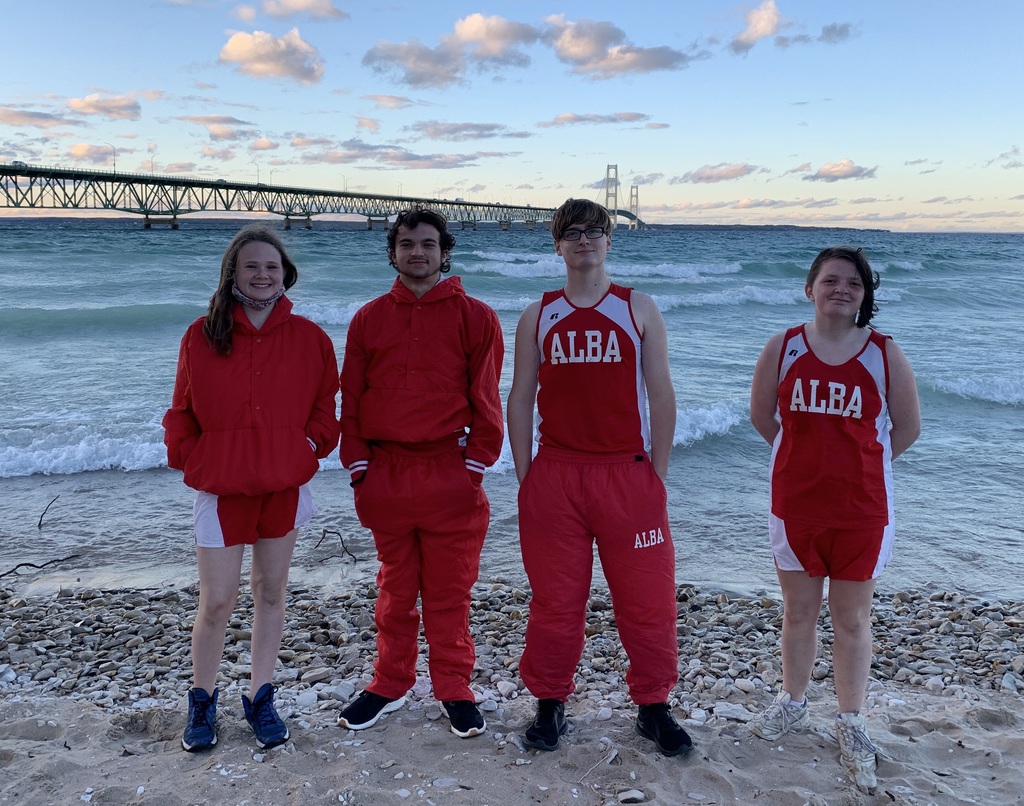 Alba Public School will be holding a Special Board of Education meeting on Monday, October 26, 2020 at 7:00 p.m. in the Board Conference room of Alba High School. The purpose of the meeting will be to review the 2019-2020 budget audit.
Alba Public School encourages all of our constituents to sign up for our new application to receive school notifications and news.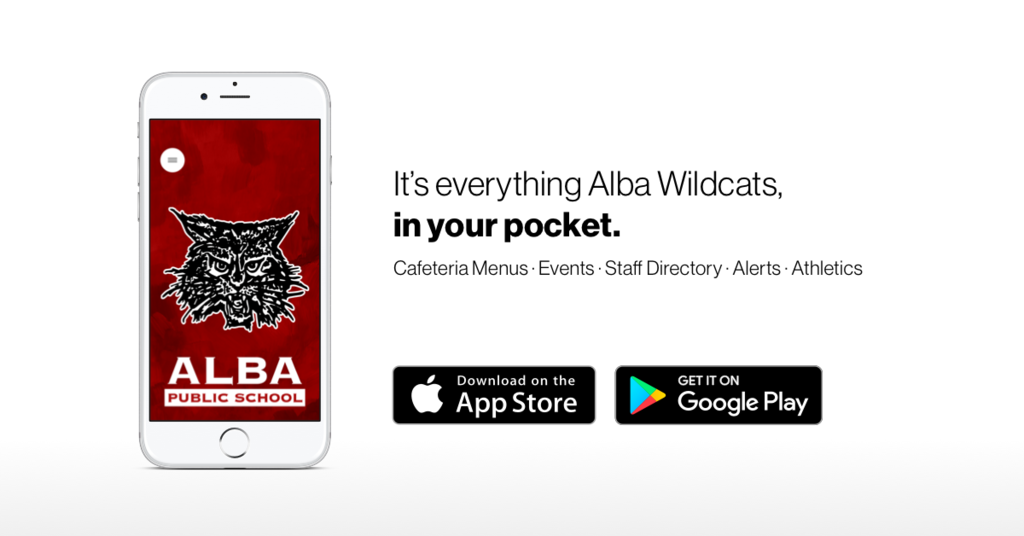 Alba Public School Open House for September 22, 2020 is cancelled as a result of crowd limitations due to COVID-19. We are trying to reschedule alternative plans.
Dear Alba Wildcats community, Alba Public School is thrilled to announce our new app for mobile phones! Stay up-to-date with access to realtime sports scores, the daily cafeteria menu, news from administrators, student stories, and even emergency notifications.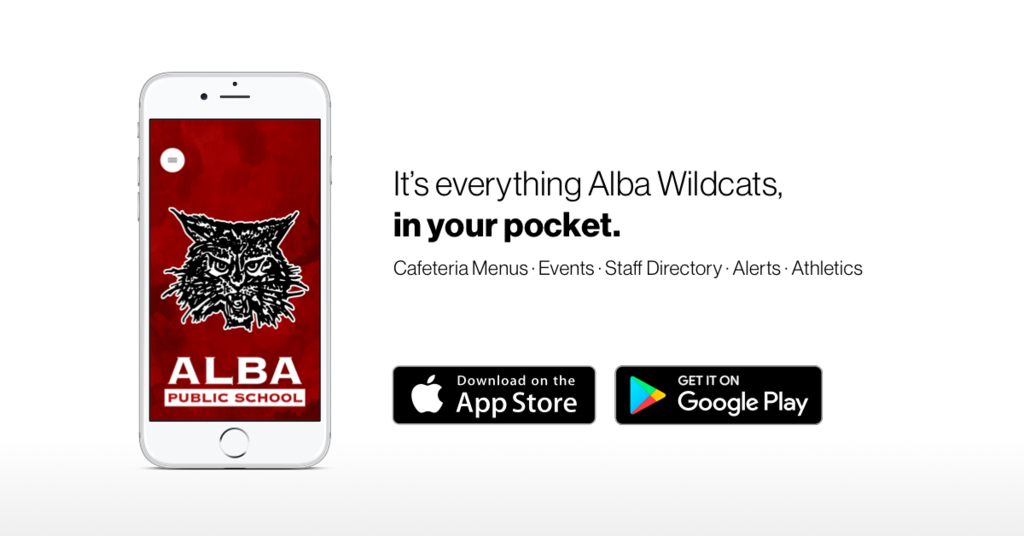 Catch up with the latest student stories, sports scores, and news updates. It's everything Alba Wildcats, in your pocket. If you haven't already, download the app on Android:
https://bit.ly/3b48Ve1
or iPhone:
https://apple.co/32zrF1g
.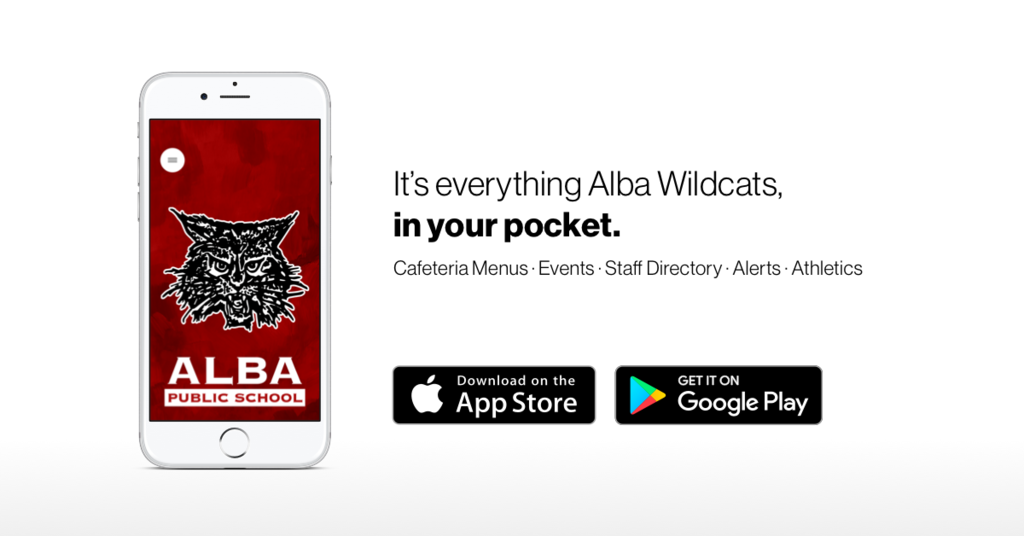 Great job last night at our conference jamboree #2! Way to run Wildcats!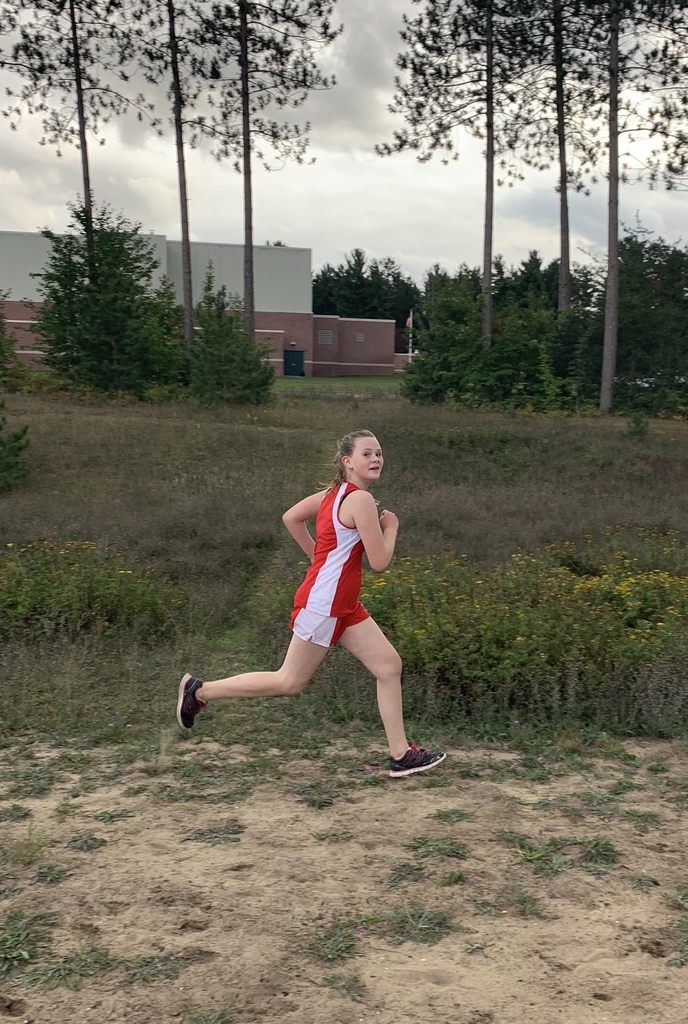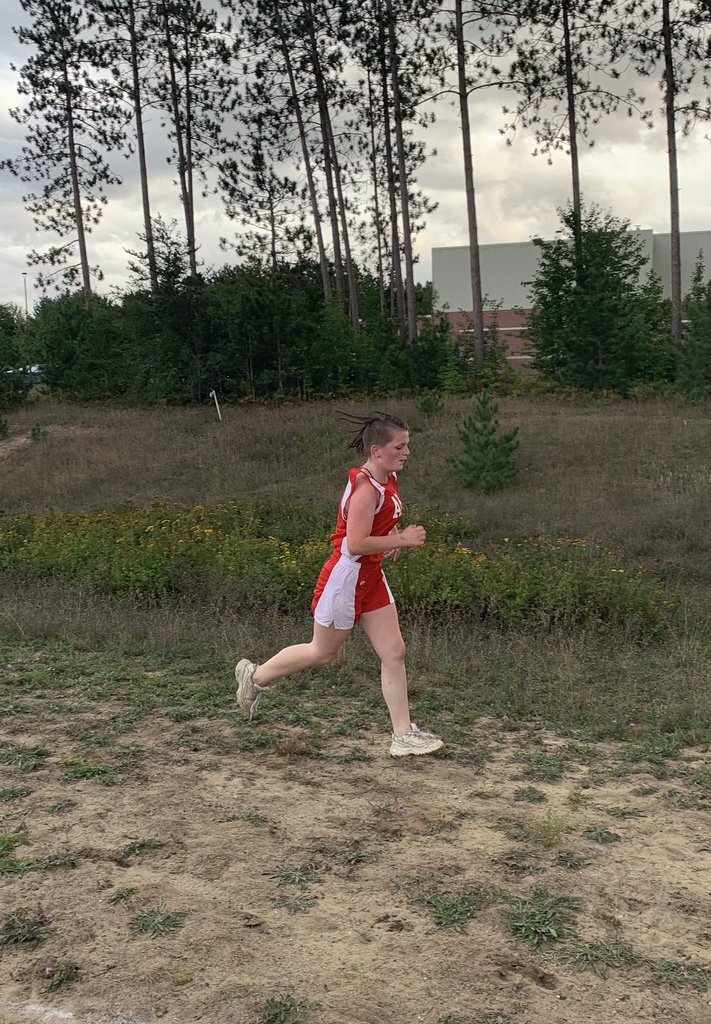 Volleyball versus NMCA 9-15-2020 cancelled
The Alba Public School volleyball contest for tonight versus NMCA at NMCA has been cancelled. The girls will be back in action on Thursday, with our JV contest at the Ellsworth Trimeet beginning at 5:00 p.m.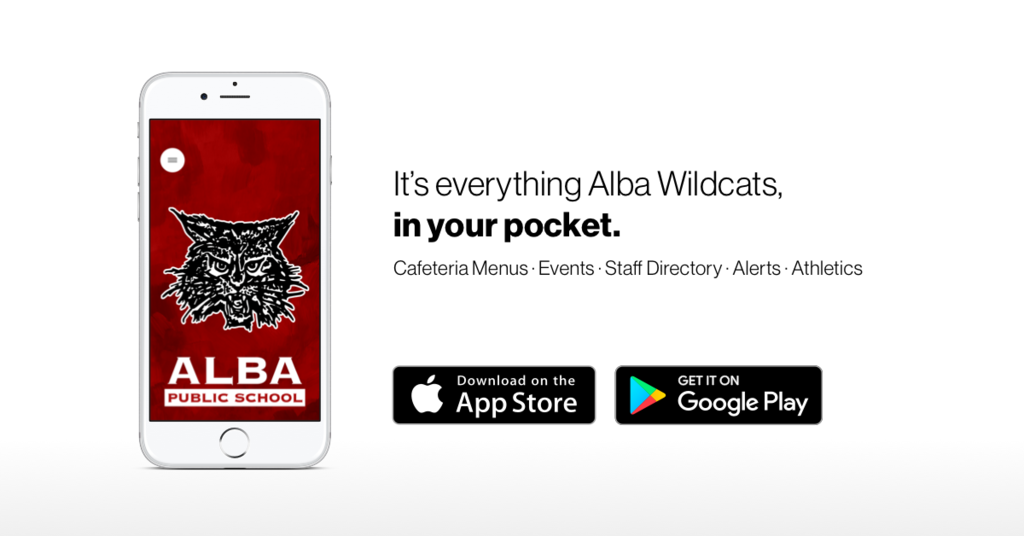 Today marks the 19th anniversary of the 9/11 attack on the United States. We remember those who have fought, and continue to fight, for the freedoms we now enjoy. We honor their memories today, and pay respect to the first responder and law enforcement in our area.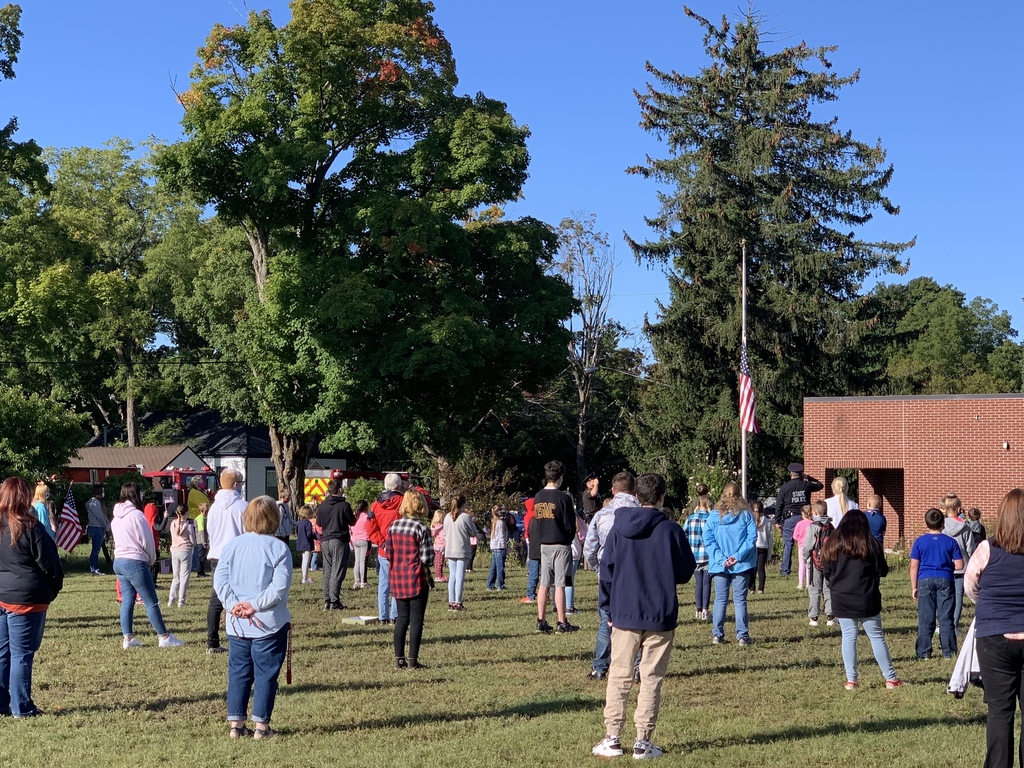 The Varsity and JV volleyball teams lost a couple close ones against Ellsworth last night during their NLC opener, but will be looking to bounce back against Boyne Falls on Thursday!